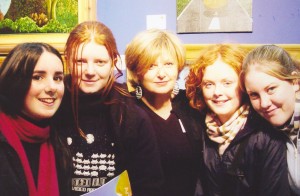 DiDi,who has made her home in Kilkenny since 1999, is born in New York of Irish parents. At a young age, she left the exciting pace of the Big Apple in the company of her journalist father and mother, to go to the ancient mysterious city of Athens. There she experienced her first smells of an artistic and creative studio. A few years later, always in pursuit of her parents, she moved to the majestic city of Rome, which became the real beginning of DiDi's artistic journey. It was here that she frequented the well known Franchetti Art Studio run by Venetian sculptor Franchetti and his post-impressionist Russian artist wife. She later attended Le Belle Arti and studied briefly at Kingston University in London.
On returning to Rome from London, DiDi entered the world of fashion and won a placement in High Fashion by the Italian Chamber of Commerce. She was later drawn into designing textiles and practising interior design.
Since living in Ireland, DiDi has gone back to her original love ….. painting. She has had various group and solo exhibitions and highlights to date have been, being invited to a Residency at the incredibly beautiful prehistoric Artist Retreat Cill Rialaig in Ballinskellig and presenting President Mary McAleese with her portrait.
DiDi shares her passion for art with the young through the " Young Artist Studio," started by her in 2001.
EXHIBITIONS SOLO AND GROUP
1998…………….The Cockle Shell Gallery in Duncannon
1998……………..Wexford Arts Centre
1998…………….The Masterpiece Gallery in Wexford
1999 …………….Wexford Arts Centre
1999……………..Kilkenny Arts Festival
2000……………..City Hall Kilkenny
2002……………..Young Artist Studio Kilkenny
2002…………….Art Ireland RDS Dublin
2003……………..Butler Court Kilkenny
2003…………….Art Ireland RDS Dublin
2004…………….Butler Court Kilkenny
2004…………….Art Ireland RDS Dublin
2005…………….The Twelve Kilkenny
2005…………….Cornwall Market Wexford
2006…………….Listowel
2006…………….The Twelve Kilkenny
2007…………….Kenealy's Kilkenny
2008…………….Kenealy's Kilkenny
2009…………….Bad Art Gallery Dublin
2009…………….William Gallery Kilkenny
2010…………….Kenealy's Kilkenny
2010…………….Bad Art Gallery Dublin
2010…………….Art Fair RDS Dublin
2010…………….The BoatHouse Gallery Kinsale
ARTIST STATEMENT
"Living in hot countries influenced me even from an early age. As a child I was fascinated by people and painted big bright colourful portraits. Today my talking portraits of writers are passionate multi-layered oils that are dynamic and larger than life. My insertion of initials, lines and squares deliberately create a thinking topic between the viewer and the paintings. Not only are the writers words everlasting but they too have been given a new lease on life….yesterday's genuises are today's vibrant men. Beckett would have been amused at his modern-day treatment. He stands before us – an intellectual grandfather with his initials sculpted into one cheek. I have to smile at the memory of his words," What do I know of a man's destiny? I could tell you more about radishes." Sometimes my work is an adventure, sometimes surreal, like theatre. You forget you're facing a picture, simple oil on canvas. All of a sudden a window is opened and you're thrust into an altogether different dimension. I am a child at heart and I like to paint with care-freeness and fun. In some of my paintings, my fashiion and interior decorating past mirrors itself in several layers of oils juxtaposed with interesting angles and perspectives. The inside becomes mixed with the outside, the mannequins in the windows seem to be strolling with the bystanders and the balloons and hats could be the faces of shoppers, couples, parents, friends and children."